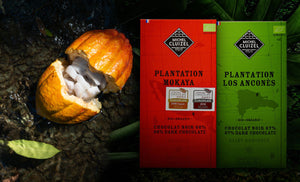 The Chocolate Making Process
Let's discover Cluizel's 100% bean process
Since 1948, the Manufacture Cluizel has been sharing its passion for chocolate.

"We take to heart to share our knowledge and way of working the noblest ingredient: cocoa".
The Manufacture CLUIZEL developed a direct, sustainable relationship with cocoa planters. Please refer to the following article: we-are-proud-of-our-differences A genuine and natural chocolate taste, this is what our self-demanding Chocolaterie strives for. This fair commitment is a pledge of quality.
Let's sum up the process: Cocoa beans are fermented and dried according to a skillfully controlled technique, at the planter's premises and then shipped to our Manufacture Cluizel in Normandy (France) .There, we start the slow roasting process that perfectly reveals all the complex cacao notes, followed by the refining and conching before crafting finish chocolate products and bonbons carefully hand decorated.
The finished products offer a wide range of tastes from unique soils, emphasized by traditional and innovative creations.
---