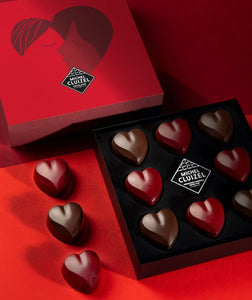 Celebrate Valentine's Day
Our blog is back!
We hope that you and your family are in good health.
We are glad to come back to help you prepare a magical #Valentine's Day, especially when many people are suffering solitude.
Whether you are physically close or far from your #Valentine, celebrate this special moment by sending a personalized gift. The surprise will be even greater!
Discover our exclusive Valentine Boxes delicately wrapped and filled with premium chocolate creations.
The Ultimate Valentine box can be personalized with a song/message and a picture.
To celebrate even better, organize a simultaneous Zoom tasting. You can also prepare or order a dinner. The personalization options are unlimited. Then, feel free to share your deepest feelings.
Affection from family, lover and friends are the best treasure we could possibly have. But please do not forget that the best #Valentine's day is the one that last longer than #14February! Any day gives you the opportunity to show your love.
---